Membership gives you more.
Better informed, better connected, better prospects.
Wherever your career takes you, use the support and recognition of an Institute of Leadership Membership.
With our research and expert knowledge, we will open your eyes to new and evolving areas of leadership and boost your confidence as a leader, giving you that edge to stand out from the crowd and get ahead in your career.
You get all this, from only £100 per year.
Interested in becoming a Fellow? - find out more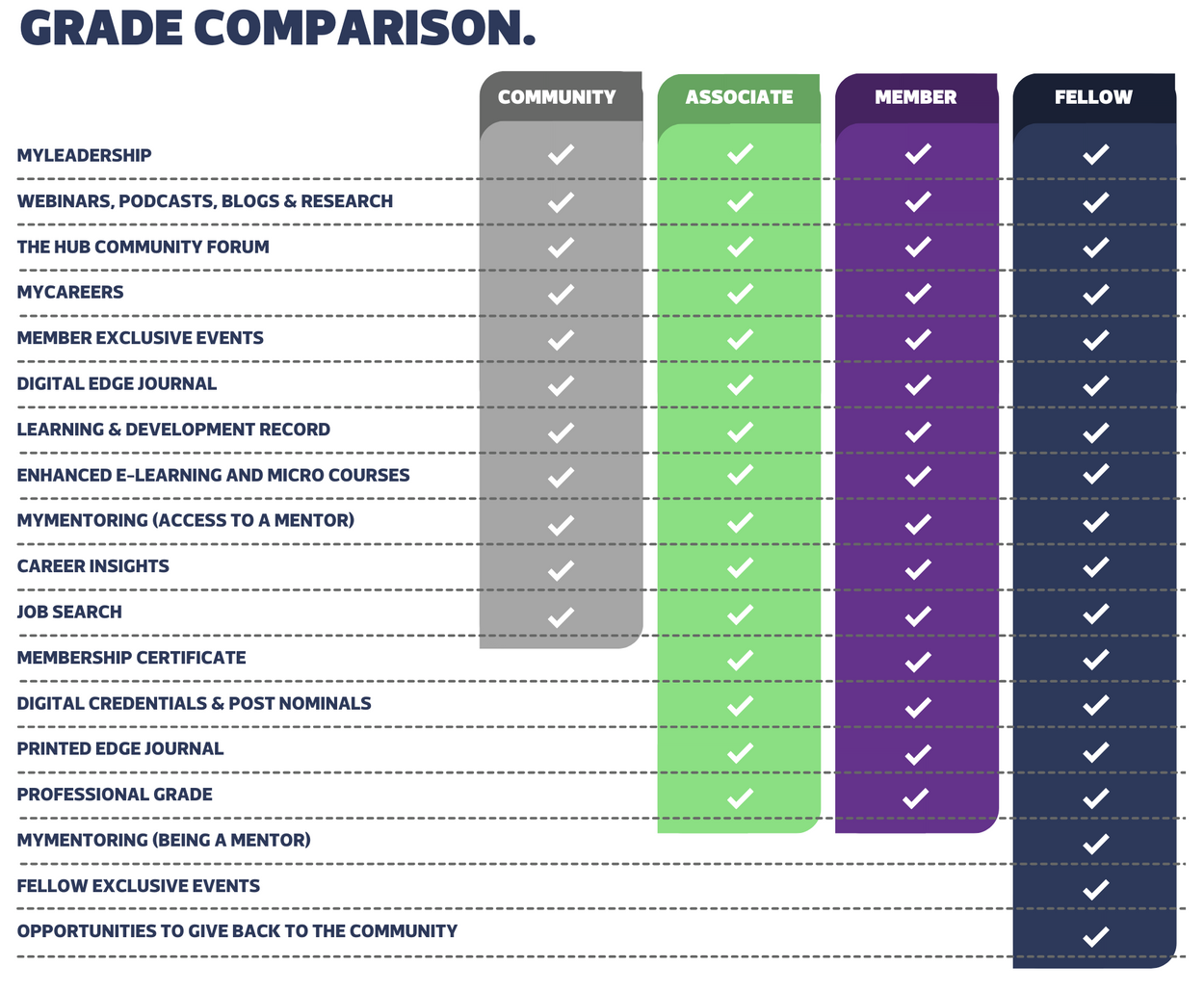 Enhance your reputation with letters after your name (Associate, Member and Fellow grades)

Share your success with digital credentials (Associate, Member and Fellow grades)

Evidence your commitment to leadership with MyLearning Record, a place where we record all of your CPD and personal development
Get ahead of the curve with 'EDGE' leadership journal - thought provoking discussion and leadership expertise
Choose your grade and apply below.
Your employer may consider supporting you with membership, as part of your professional development.
Check if your employer can help.
In our 2022 Member Survey
82% said their confidence had increased

83% said they were better equipped to deal with challenges

80% said their team performance had improved

81% said their reputation had been enhanced

74% said their career had been boosted
Know more about what you need to grow.
What our members say...
MyLeadership has given me a real sense of self-awareness; a recognition that I know more than I thought, and I understand more than I think!
- Mrs Ozma Iqbal MIoL, Department for Work and Pensions
I feel tremendously privileged to be able to have access to such well thought through and wonderful knowledge, resources and analysis and be part of such a thriving network of people and ideas.

I'm deeply thankful and astonished this is available to me for the tiny amount I've paid for my yearly membership - it's clearly extraordinary value for money and brings huge well-being benefit for me as well as professional.

- Alison Allmand-Smith
The digital badges and online accreditation process is first class - the interview with a real person is an excellent touch. First class team, keep up the good work!
- Jo McDowall MIoL, The London Coaching Space
Being a member of The Institute of Leadership means much more to me than a certificate and post-nominal letters, although those are helpful indicators to clients that I am investing in knowledge and skills that will benefit them. I am a better leader for my membership, and a more reflective practitioner.
- Cathi Shovlin FIoL, Founder, Human Revolutions
MyLeadership has inspired me to become a better leader! The tools and resources available enabled me to easily identify my knowledge and skill gaps. I was then able to work on improving these around my busy schedule, at a time that was convenient for me.
- Claire Tindale, Durham University
MyLeadership is a modern product, for a modern managerial environment, in a modern age.
- Phillip Tweedie,
To have the MyCareers service as part of the membership value proposition is invaluable, particularly at a time when people like myself maybe between jobs and haven't dusted off their CV for a number of years. My CV was rated 60% optimal but with a few simple tweaks and adjustments I am now over 80% optimal.
- Paula Wilcock FIoL
Leadership to me is being curious about possibilities. The Institute website has really opened my leadership to new learning by exploring new thinking and skills. I would encourage all leaders to engage their teams in the programmes on offer through The Institute of Leadership.
- Steve Playford FIoL, Leadership and Wellbeing Consultant